"Together we look at how collaborative robots can be used most efficiently in your business"
Robbin Mennings, automation specialist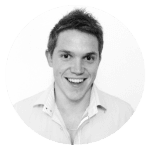 Choose a time that fits your schedule!
You'll receive a link for a videocall afterwards.
Robbin Mennings, owner and cobot specialist of WiredWorkers, will answer your questions about cobots and advise you on how to make the most efficient use of collaborative robots within your company. Robbin has been working with cobots for 5 years. Before he found his love for automation, he worked as a Mechanical Engineer within several large companies in the Netherlands. After 5 years, WiredWorkers started supplying cobots both nationally and internationally and is a partner of several major brands: Franka Emika, Techman Robot, Universal robots, Pickit, Robotiq, MiR and more.