The Franka Emika Panda is agile as a human arm with a human touch sense, a completely smart interactive solution, easy to set up and intuitive to use.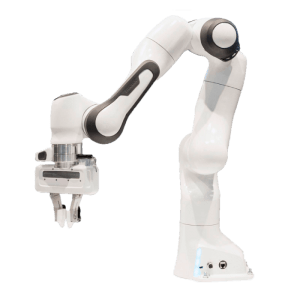 De Franka Emika Panda is ontworpen om te bewegen als een menselijke met een hoge gevoeligheid in alle zeven gewrichten.
WiredWorkers is partner van Franka Emika GMBH uit München, de ontwikkelaar van de Panda.
Productspecificaties:
ARM: De arm is geïnspireerd op de behendigheid van een menselijke arm. De arm kan 3 kilo dragen en kan 850 millimeter reiken.
Controle: De smalle 19 inch controlebox kan geplaatst worden in server rekken of ergens anders.
Pilot: De Pilot is de directe gebruikersinterface op de robot zelf. Hiermee kan je gemakkelijk de robot programmeren.
Hand: De Hand is een erg gevoelige grijper. Met een kracht van 70N en een slag van 80 millimeter kan het bijna alles grijpen wat u wil.
Unieke kenmerken van het collaboratieve lichtgewicht robot systeem speciaal ontworpen om mensen te assisteren.
WiredWokers Franka Emika Panda AR App
Met de WiredWorkers AR app kunt u precies zien hoe de Franka Emika Panda cobot in uw bedrijf past. Download hem nu in de appstore!