OnRobot, the world leader in collaborative robotics tools, launched 'Learn OnRobot' last month. A free online training platform that guides cobot users step-by-step through the design and implementation of cobot applications using OnRobot tools such as grippers, vision cameras, processing kits and sensors.
Extinsive library
Learn OnRobot consists of an extensive library of simple 'How To' videos and 3D simulations in nine languages with detailed information on cobot applications. Applications covered include palletising, pick & place and sanding. The platform is publicly available on PCs, smartphones and tablets, making Learn OnRobot easy to use during the shop floor implementation process.
"OnRobot's products aim to make the use of automation affordable, industry-proof and user-friendly for companies of all sizes," said Enrico Krog Iversen, CEO of OnRobot. "Learn OnRobot continues this barrier lowering tradition by making knowledge about collaborative applications freely available to anyone with an internet connection. From potential customers to partners, integrators and end users who want to maximise their automation application."
Learn OnRobot consists of three main sections;
Application provides overviews of various collaborative applications, including best practices and deep dives into the specifics of successful implementations.
Product offers advice on which OnRobot tools are best suited for different applications, along with integration tips and insights.
Robot Integration shows how to integrate the application with the robot arm, with separate tutorials for each supported brand of robot arm.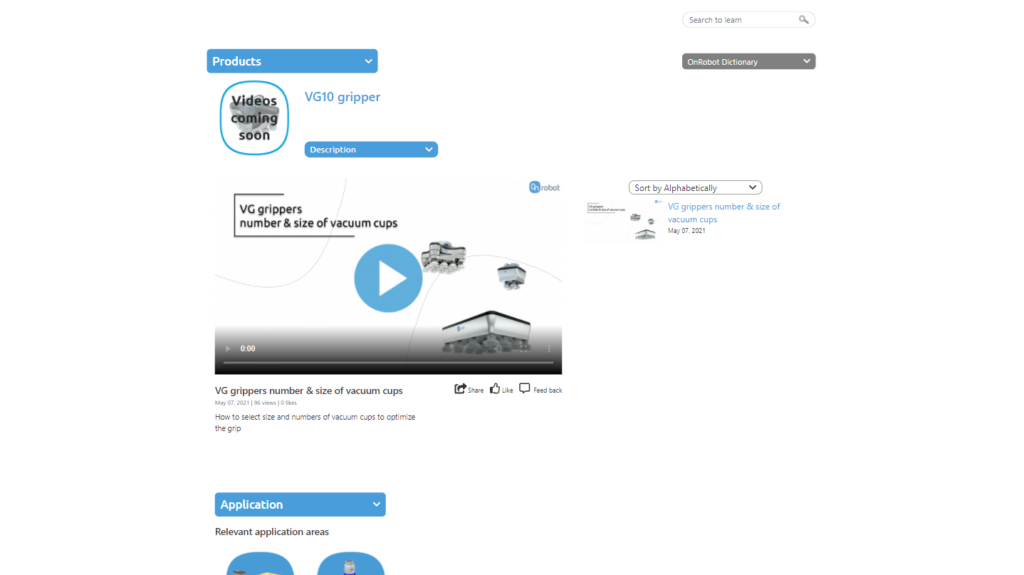 Simplicity and user-friendliness
Stefan Stubgaard, Director of Application Research & Product Management at OnRobot, led the development of the new learning platform and sees Learn OnRobot as a great way for the company to repay the community for the many years of insightful conversations about the easiest and most effective ways to deploy collaborative automation on an industrial level. "Learn OnRobot is designed to help answer integration questions and overcome implementation challenges," he says. "The new platform is all about simplicity and user-friendliness. With Learn OnRobot as a guide, integrators and end users of any level can make the most of their collaborative automation implementation."
OnRobot makes tools for collaborative applications, from packaging, quality control and material handling to machine control, assembly, and surface finishing. OnRobot's product range includes all-electric tools that do not require pneumatics, such as vacuum grippers, magnetic grippers, the award-winning Gecko gripper technology, force/torque sensors, a 2.5D vision system, screwdriver kits, sanding kits and tool changers. In the Netherlands, OnRobot tools are available from WiredWorkers in Doetinchem.
Learn OnRobot is available for free worldwide via the OnRobot website.