The Franka Emika Panda is agile as a human arm with a human touch sense, a completely smart interactive solution, easy to set up and intuitive to use.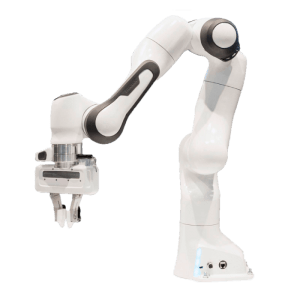 The cobot is designed to act like a human arm with his high sensitivity in all the seven joints.
WiredWorkers is partner of Franka Emika GMBH from Munich, the developer of the Panda.
Product Specifiation:
ARM: The arm is inspired by the agility of the human arm. Is has a 3kg payload and a reach of 850mm.
Control: The slim 19" control unit can be place in server racks or anywhere else.
Pilot: The Pilot is the direct user interface which is on the robot itself. With this you can easily program your robot.
Hand: Is a very sensitive gripper. With a continue grasping force of 70N and a stroke of 80mm it can almost grasp everything you want.
Unique characteristics of the collaborative lightweight robot system designed specifically to assist humans.