Universal Robots UR5 cobot is an industrial robotic arm designed to simulate repetitive manual tasks weighing up to 5 kg. With built-in force/torque sensor, improved precision, much better interface and more, the e-Series Universal Robots UR5e is a worthy upgrade from the original UR5.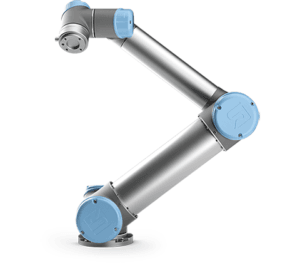 UR5e - Easy, fast and flexible
The Universal Robots UR5e, a highly flexible robotic arm with built-in force/torque sensor, improved precision, much better interface and more that enables safe automation of repetitive, risky tasks. With a carrying capacity of 5 KG and a radius of 850 mm, it is the perfect cobot for performing light tasks such as packing, assembly or testing.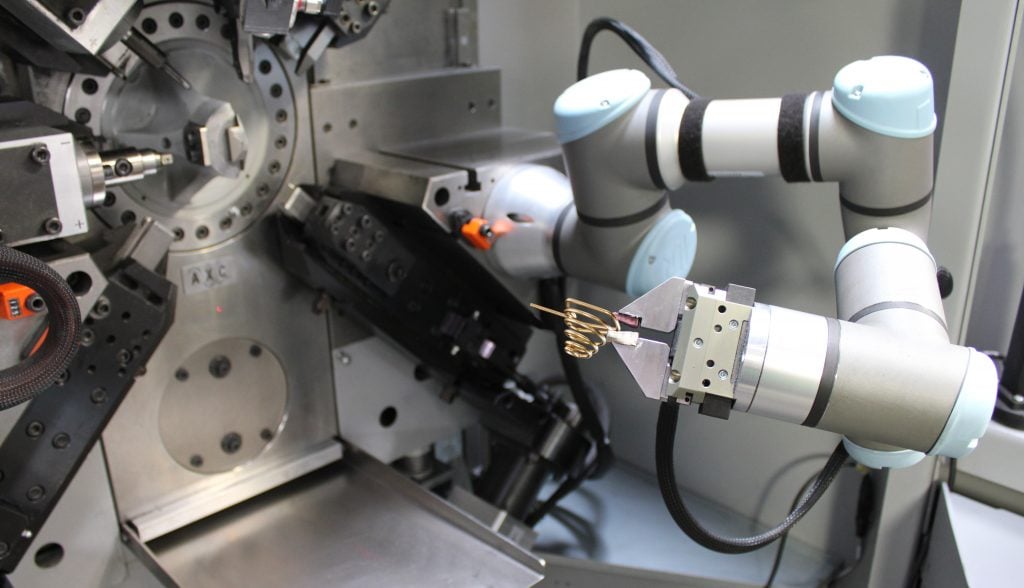 The UR5e is very easy to set up and program. This gives it one of the fastest payback times on the market. This robot can be operational in less than half a day thanks to the simple way of programming with a 3D visualisation. The robot can be moved manually to the right positions, after which it is stored and can be further adjusted on a touchscreen tablet.
With this, the UR5e can be a supplement to production, regardless of the industry in which you operate, the size of your company or the nature of your product.
The robots of Universal Robots.
Universal Robots started with the introduction of cobots in 2009 and has now introduced three variants to the market: the UR3, UR5 and UR10. These cobots are characterized by their flexibility, light weight and user-friendliness and have 6 separate joints. They are perfect for mid-size companies that need flexible, effective automation with a fast return on investment. Thanks to their light weight, they are easy to move around and do not require a robust surface.
The robots are supplied with attributes that make it possible to program them, such as a controller box, a touch screen and software. The graphical interface makes programming easy and accessible for everyone. In addition, according to the applicable rules, they can be operational without shielding and can be placed in a shared workspace with employees.
Find out how we can improve your production
Book a free online consultation with our automation specialist!
Completely free and without obligation!